Garage Remotes: Key to Convenient Entry
02/25/2015
Back To Blog
Remote controls are ultra handy in opening and closing garage doors without having to lift a finger. They are ubiquitous, handy, and convenient at very reasonable costs. Many door manufacturers offer remotes as part of fully automatic door operators. But owning a remote controlled unit comes with greater responsibilities, especially in terms of repair and replacement. How can you tell if your remote needs service? Or how can you tell if it is just the remote or the opener?
When the Remote Does Not Work

Just like with your TV set's remote control, your garage door remote is very essential to the daily grind of life in the household. If it stops working, it could cause discomfort. It is important that you are at least aware of the basic repair problems you might encounter by owning one so you would not have to panic with every malfunction.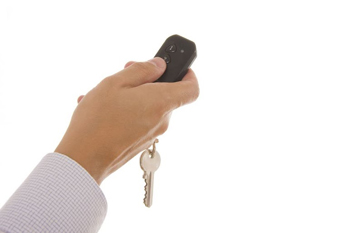 One of the first things that need to be done when the remote fails to work is to check the batteries. Remotes are run by batteries. When their charge becomes empty, your remote will fail, of course. The first line of diagnosis, therefore, is to check whether you need to place fresh batteries. This is mostly the case when your door reacts to the wall-mounted button but not with the remote. Either that or your remote needs to be reprogrammed.
If you have already replaced the batteries and the remote still won't work, you might have to check its manual for programming instructions. Usually, reprogramming only requires a few steps. Sears garage door opener remote control and other brands usually have the steps clearly defined at the manual.
So, how can you tell if you need to call us at Garage Door Repair Allen instead? For remote faults that do not seem basic or easy to resolve with little technical know-how, our professional expert might need to intervene. Both the remote and the opener need to be worked up to determine what's causing the trouble exactly. It could be anything from the replacement of any of the moving parts to garage door motor repair. You need to be sure before you take steps if you do not want to be let down with a total door malfunction or a costly replacement.
Also, note that safety practices must be in place at all times to ensure that intruders and burglars do not obtain easy access to your home.