Garage Door Springs
Back To Our Services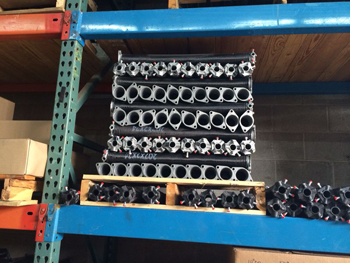 Garage door springs play a vital role as they counterbalance the door's weight and make opening or closing easier. Two kinds of springs are used for doors, the torsion and extension springs. Torsion springs are placed above a closed door, while extension springs are placed above each upper track. Springs are under extreme tension, and when they break, can cause injury.
The two types of overhead door springs work differently. Extension springs have safety cables found on the sides of the door. These cables run through the springs and are attached to the ceiling or wall. They serve an important purpose, because if one of the springs breaks, the safety cables help control it.
Spring problems we work on
A properly operating overhead door is one that closes or opens smoothly. When it starts acting strangely, there could be some problem. If you try using the door manually and it is still difficult to use, the spring may be out of balance. If this is the case, never attempt to fix it for if you fail, it may lead to more broken parts. Garage door repair from professionals are worth the cost for it assures your safety.
If you are using extension garage door springs and notice that there isn't any safety cable, call our number and we promptly install a pair for you. It is best to leave repair or replacement to our professionals at "Garage Door Repair Allen", for we have the necessary skills and equipment to work on it.
The springs are also attached to brackets found at the bottom of the door. These are also under extreme tension, like the springs. If something goes wrong with it, a skilled technician should be the one to make necessary adjustments. Recent door models make use of tamper resistant products of bracket so that an unskilled individual would not obtain injury should an adjustment be attempted. For any signs of worn springs, leave the repair or replacement to Garage Door Repair Allen. It is always worth investing in a professional garage door service if that would equate to your safety and peace of mind. Call us today for more information.